Kenneth Reams has been on Arkansas's death row for 23 years, even though he did not kill anyone. Even so, and in spite of his situation, he has used his years on the row to the astonishment of many. He is an accomplished artist whose work has toured the US and Europe, and he has managed to create a non-profit. Kenny's goal through his non-profit is to create awareness about the history of the death penalty in the US and ultimately to create a death row museum.
The Prison Story Project is proud to support Kenny in his effort by helping him sell raffle tickets for a framed 11x14 graphite pencil drawing of Malcolm X and Dr. Martin Luther King, Jr. on acid free paper. Raffle tickets are $10 each and may be purchased through our website. Just go to "donate" and be sure and check the box to share your mailing address and phone number. We will send you your ticket stub with(hopefully) your lucky number.
The drawing will take place at the Who Decides, Inc. annual fundraiser to be held in Little Rock on October 28, 2017.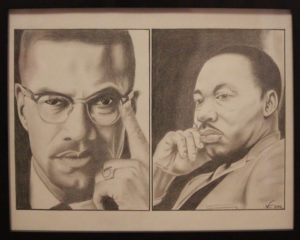 You can help by purchasing a raffle ticket. All you have to do is go click on our "donate" button and include your address by clicking on the "share my mailing address with the Prison Story Project". We'll mail you your stub for drawing and you'll be supporting a worthy cause. the winner will be notified after the drawing on October 28. And thank you!